The History of Parsons Mathway Marine
Parsons Mathway Marine started life as the Parsons Engine Company in the early 1900s and was based at Town Quay in Southampton, England.
The company built marinised engines based on the Ford petrol and later diesel engines. Parsons also developed their own gearboxes, initially for many applications, including pump houses and tanks. The first marine gearboxes were in response to a request from the war office. Parsons marine engines and gearboxes were in widespread use by the 1920s. After the war, Parsons continued to supply the Ministry of Defence and engine manufacturers including Rolls-Royce, Perkins, Enfield, Russell Newbury, Lister, Petters, Cummins and many more.
Parsons marine gearboxes were supplied to numerous boat builders, including Vosper Thorneycroft, Fairey Marine, Freeman Boats, Camper & Nicholson yachts and the Royal National Lifeboat Institution.

Parsons also developed their own exhaust mixer boxes of different sizes, as well as clutched pumps. Manufacturing slowed in the late 1960s, with the growing influx of engines and gearboxes from America, Italy and Germany. In the 1970s, Parsons stopped building their engines and gearboxes, but continued to repair both and also to manufacture the exhaust mixer boxes. Parsons then became part of the British Polar Engine Company.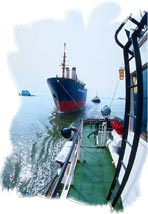 Mathway Marine Steering started production in the mid 1900s. It supplied the war office (MOD) and major commercial and leisure ship/boat builders, including Vosper Thornycroft, RNLI, Camper & Nicholson, Moody's, William Osbourns and Berthon Boats. The positive mechanical steering systems quickly gained a reputation for being robust and providing precise control of the vessel.

Mathway also made gearboxes for Rolls-Royce marine piston engines, including the Griffon. These were used in vessels such as the RAF air sea rescue triple screw boats, RAF seaplane tenders, Motor Torpedo Boats and many commercial vessels.
Mathway was also bought by the British Polar Engine Company. In the early 1980s Mr Ivor Jenkins, then employed by British Polar engines in Glasgow, was the manager for Parsons and Mathway. He brought both companies together to become Parsons Mathway Marine. In the late 1980s, Mr Jenkins purchased the company from British Polar and ran it at the Hamble. It moved to Fareham in 1999, before Mark Jenkins took over from his father.
Parsons Mathway Marine was acquired by Coupland Bell Ltd in 2013. It continues to supply Mathway steering and to support the thousands of Parsons marine gearboxes in regular use around the world.